Stay tuned for upcoming events and activities!
Previous Events
Rodney's Raptors Visited WBU Last June 11
Rodney Stott, a falconry expert, gave us an exciting interactive live bird experience for attendees.

H0w to Create a Wildlife Friendly Habitat in Your Back Yard
Kerry Wixted of the Maryland Dept .of Natural Resources joined us once again for a great presentation at our shop on May 7th.
April 28th Fundraiser for Friends of Historic Linthicum Walks
Earth Day, April 22 Bird Walk at Historic Linthicum Walks
Hummingbirds Presentation
On April 9th we were pleased to hear

a great presentation about Hummingbirds by

Mr. Bruce Peterjohn, Chief of the Bird Banding Division at the Patuxent Research Refuge.
Attracting Bluebirds to Your Yard
David Gillem of the Maryland Bluebird Society was on hand on March 5th at 4PM to answer questions about how you can attract bluebirds to your backyard.
Going Batty for Bats
Kerry Wixted of The Maryland Dept. of Natural Resources gave a great presentation on October 27th highlighting the benefits of bats to our environment and what people can do to help them.
Live Raptors Visited the Shop in September
A Red tailed hawk, red shouldered hawk, a great horned owl and a screech owl visited the shop September 17th. Naturalists from the Watkins Park Nature Center offered a great presentation about the various raptors in their care.
Maryland Zoo to Visited Shop in October
The Maryland Zoo Mobile visited the shop on October 1st. Customers got to see Louie, a macaw parrot, and a saw whet owl.
Previous Events
March 12 Bluebird Presentation Draws Packed Crowd



First Bird Watching Walk for Kids and Parents at the Gambrills Shop

Winnie the Penguin and other Cool Birds Visited the Shop on February 27th




Birds of Prey Visited the Shop on December 12
Our friends from Watkins Park Nature Center in Prince George's County visited the store along with their feathered friends on Saturday, December 12. to give a presentation about raptors! We saw a great horned owl, kestrel, broad winged hawk and a red tailed hawk! Our customers got a chance to see and learn about these magnificent birds up-close and personal.

Build A Feeder Event for Kids, October 24
Dad and mom help daughter with building her birdfeeder kit at the shop. Lots of fun for the kids that day.
Call the store today to plan your group bird feeder building event at the shop.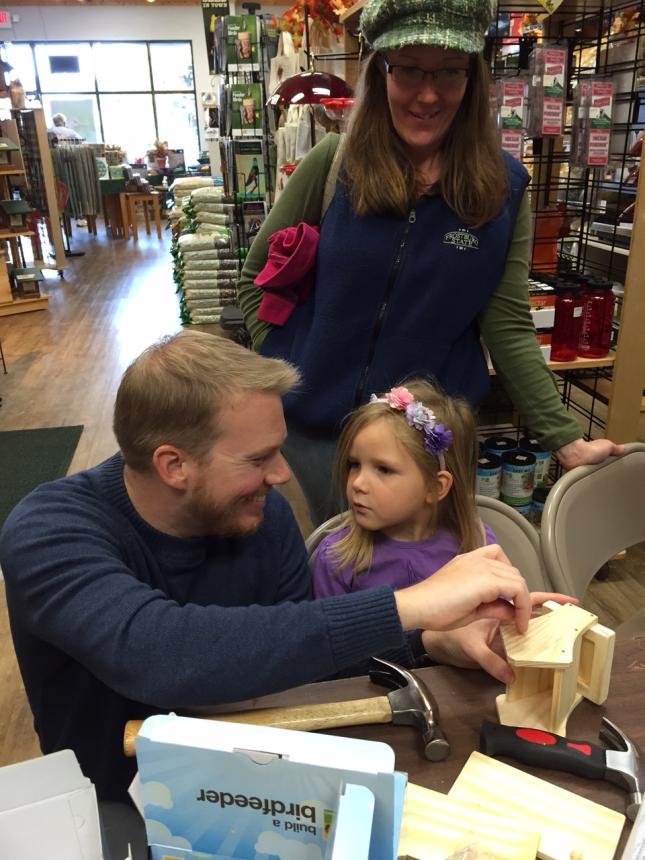 Maryland State Police K-9 Unit Visits the Shop

Maryland State Police Corporal Jeff Partridge visited the WBU Gambrills store last June 20th with his trusty canine colleagues, Optimus Prime (chocolate lab) and Gunner (bloodhound), to help celebrate Enzo's 5th birthday! Corporal Partridge gave a brief presentation about his work with the K-9 unit and answered lots of questions. Customers helped raise more than $400 to support the K-9 Unit with needed supplies that are not funded by the State. A great time was had by all!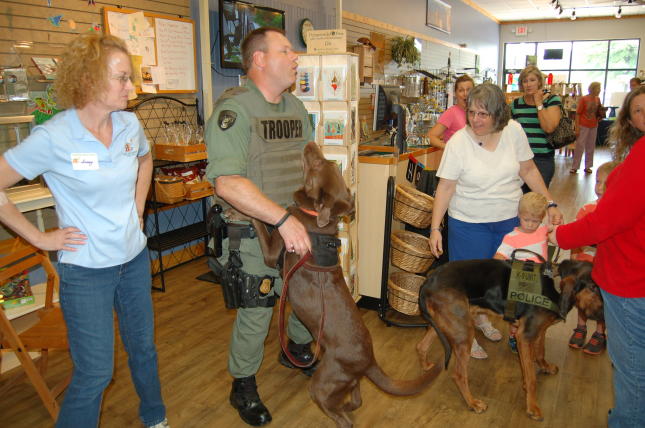 Daisy Troop from Odenton Visits Our Nature Shop
Members of the Odenton Daisy Troop and their families visited the shop on April 14 and had a great time learning about backyard bird feeding and how to build their very own bird feeders. Enzo happily greeted the troop and hung around for treats.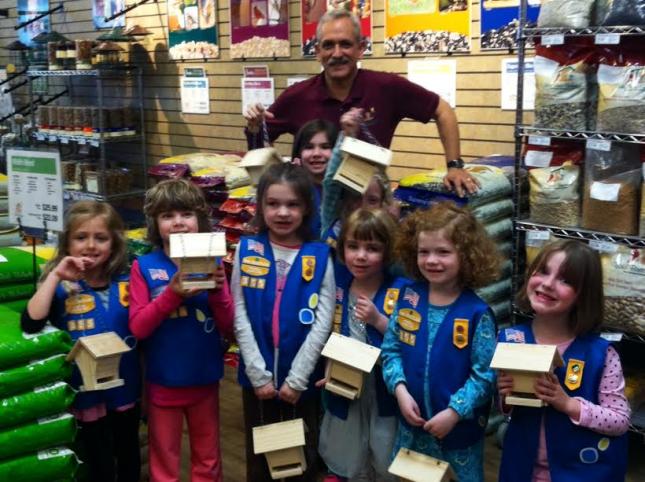 Cub Scouts Visit WBU Gambrills Nature Shop
Members of Cub Scout Pack #111 from Crofton, MD, built bird feeders and bird houses at Wild Birds Unlimited Nature Shop. On February 21, 2015, the pack toured the shop with owner Lou and also learned about the variety of local birds and the food they eat.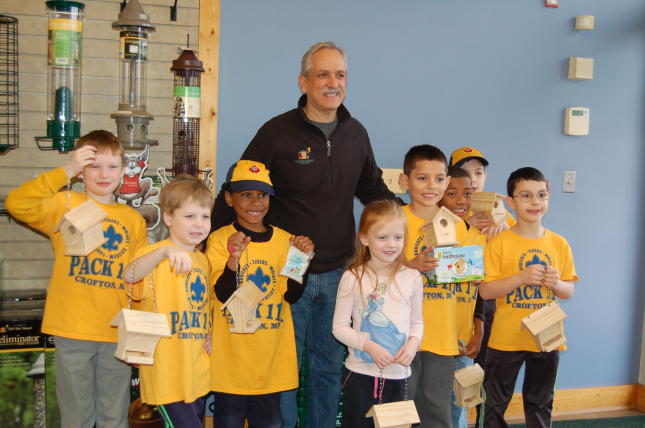 Bluebird Presentation a Big Help to Customers

The WBU Nature Shop of Gambrills hosted a presentation by David Gillem of the Maryland Bluebird Society on Sunday, March 15 at 4:00 PM. Twenty customers attended and learned more about how to attract these beautiful visitors by using proven techniques and products. Meal worms anyone?